Driven by the phenomenal growth of technology over the past decade, today's viewers not only expect a wide-range of high-quality programming, but the freedom to view their favourite shows whenever, wherever and on whatever device they want.
For broadcasters, the resulting need to deliver content across multiple networks – from Digital Terrestrial Television (DTT), Mobile and Broadband – to multiple devices, running multiple technologies and resolutions is creating more complex platforms than ever before.
In search of the agility and commercial flexibility needed to meet this challenge, broadcasters have introduced new platforms alongside existing ones, resulting in isolated systems, infrastructure duplication and different operational characteristics. In turn, this has led to increased operational cost and complexity. We believe this approach is not sustainable and will not deliver the desired operational savings or support for new commercial models, such as pop-up channels for events like the World Cup.
But with consumer demands in constant flux, how do platforms continue to evolve to meet current and yet unknown business demands?
Flexibility
With the adoption of standard IT infrastructure and software-defined broadcast functions, a new platform paradigm is emerging which should enable the industry to simplify platforms while providing commercial flexibility.
In order to recognise this opportunity, broadcasters must first abstract and separate applications such as encoding and multiplexing from their dedicated hardware, and instead enable them to run on standard IT hardware. Secondly, content must be made available over common interfaces – the use of single function interfaces restricts a resource to a specific application, reducing its utilisation and reuse, and ultimately limiting platform flexibility. Finally, the end-to-end broadcast workflow should be software-defined so we can deploy applications quickly and efficiently across shared resource, and tear them down when no longer needed. In this scenario, broadcast workflows will be created within a service-focused layer, which sits above the infrastructure layer and comprises of the underlying networking, compute and storage resources needed to deliver services.
In recent years the broadcast industry has been transitioning to a software approach, initially with fixed software deployments on COTS hardware using broadcast interfaces like SDI and ASI that fit into existing environments. With developments in broadcast IP standards, however, applications can now be deployed in data centre environments (public cloud or on-premise) and via a variety of models and tools such as virtual machines or containers, which use orchestration systems like VMWare to Kubernetes.
High Availability
Which you choose will depend on use case, but deploying software is only the start. While flexibility and agility are emerging requirements, high availability – the corner stone of broadcast services – is an absolute necessity if these new platforms are to deliver the nation's favourite shows.
Switching from dedicated broadcast interfaces is no simple task. While inflexible, these interfaces provide deterministic low latency performance, essential for maintaining high-availability levels and picture quality. Ethernet interfaces from 10G to 100G provide sufficient bandwidth to transport uncompressed content from SD to UHD but require additional broadcast wrappers to do so. This includes the SMPTE standards, which have recently enabled uncompressed media transport over IP and thereby removed the last blocker to an all-IP platform. While still in their infancy these new protocols, along with standards like AMWA NMOS, promise to reduce complexity in managing content distribution.
All the components are now there, but how do you configure and deploy these software applications and ensure the network reliably delivers content in real-time? These are exactly the challenges we are investigating as we develop our next generation platforms. How can we guarantee high availability for broadcast workflows, which are different from the transactional-based workflows typical in today's datacentre, cloud environments? We believe broadcast grade infrastructure and the level of interaction and awareness between this and the services running on top as key elements in delivering the desired user experience.
Speed
The adoption of an IT environment brings continuous deployment and we are excited by the possibilities this offers broadcasters to introduce improvements and deliver new services quickly.
Today evaluating and deploying improvements is a costly and slow process with new dedicated systems required to prove functionality before a physical lift and shift upgrade to the production systems. In an IT environment, the hardware resource and software applications follow independent update cycles. This decoupling allows us to evaluate new software and rapidly deploy it using automation onto existing hardware, reducing time to market and enabling customers to benefit quickly from technology advancements.
But so too, does it bring its own challenges. Can these platforms deliver 99.999% service availability while also carrying out continuous deployment to maintain security and introduce new functionality? We are working with broadcast suppliers to develop 'cloud native' applications designed for this new environment, which will enable new operating models and allow services to move between application instances with zero service impact.
Hybrid Viewing
Today's viewers are not concerned with how their shows are delivered, only that they can watch what they want, when and how they want. In response, hybrid viewing platforms such as Freeview Play and YouView have been developed to provide seamless navigation across DTT broadcast and IP delivered services.
The ability to enhance traditional DTT services with IP services is exciting, with opportunities such as restart TV if you miss the beginning of a programme, catch-up services for viewing yesterday's top shows and personalised viewing with targeted content. We believe that hybrid services have become the norm and it is essential for broadcasters to embrace the opportunities they offer.
Conclusion
We believe technology now supports a transition to a world in which broadcast services are software defined, with dynamic workflows running on standard IT infrastructure. This change brings broadcasters the agility to react to changing business needs, explore new service models, and deploy new services potentially within minutes.
But there are new questions to answer…
Can IT infrastructure cost-effectively deliver a constant and deterministic transport of uncompressed media in real-time while enabling flexibility?
How do you provide 99.999% availability in an IT environment with continuous deployment of software updates?
Where should you deploy your services, on-premise or public cloud?
These are exactly the questions we are working on. At Arqiva, infrastructure is our business and we believe that broadcasters should have the choice and flexibility to change quickly to meet the demands of viewers – accordingly the infrastructure they use needs to be flexible, quick to deploy, efficient and reliable.
We believe that, in time future broadcast platforms will be virtualised, offering this flexibility, speed and most importantly, reliability. They will operate within a broadcast-focused environment, enabling high-availability delivery and service portability.
This article first appeared on Broadcast on Wednesday, 04 July.
How to launch… Everything you need to know to monetise your content
What is 700MHz Clearance?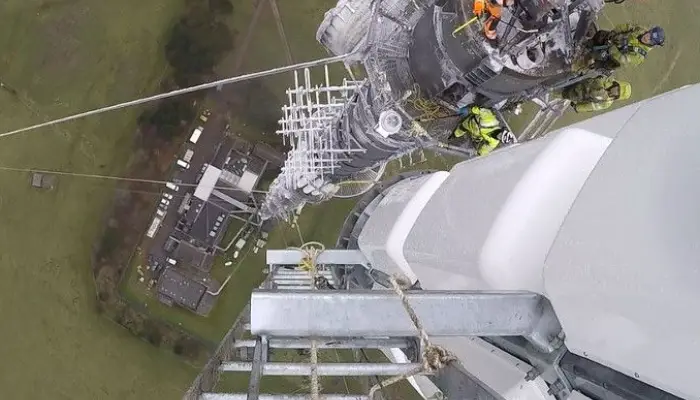 Finding an innovative solution to help clear the 700MHz band – The 'broadband' antenna