With more than 50 cleared main stations and over 350 cleared relay sites under our belts, Arqiva is making steady progress freeing up the 700MHz band.
At this pivotal point in the programme, a key member of the airworks team explains the critical part they play in the clearance process.
Responsible for overseeing the installation, replacement and upgrade of hundreds of antennas nationwide, Tom Allen is Workstream Lead for Arqiva's 700MHz Clearance programme airworks division.
Since late 2016, his team have managed the meticulous process of implementing new antenna equipment across our DTT network, providing the physical antenna infrastructure needed to clear the 700MHz spectrum for reallocation to future mobile data services.
With multiple airworks projects in the pipeline at once, each ranging in scope and complexity, it's a major undertaking. When antenna improvements take place anywhere from 15 to 1,000 feet in the air – our temporary 1,040ft mast at Emley Moor is the tallest yet – it's essential that each and every element is handled with expert diligence.
Coordinating a project lifecycle
Tom and his team supervise each antenna project from inception right up until the re-engineered antenna system is accepted into service.
Early stages include working with fellow specialist teams within Arqiva to assess feasibility of each antenna design and network configuration, before coordinating planning conditions and site access, and ensuring safety and environmental standards are met. Next comes the procurement of external partners charged with delivering equipment and its installation, as well as the organisation of the airworks engineering activity itself.
Each project phase requires precision planning and careful collaboration for Tom, who provides a crucial interface between construction at site level and delivery at the level of the wider programme. As more and more plates join those already spinning, it's down to the airworks team to finesse every detail and propel each project forward according to exact budgets and timeframes.
Communication is key, which is why Tom dedicates much of his time to regular touchpoints with all stakeholders, capitalising on digital connectivity to connect in real-time with teams and partners spread across the UK and Europe.
Mastering the challenges of airworks engineering
With so many factors at play, organisational agility is vital. The airworks team must tread the line between following a precise project plan and responding quickly and decisively if things deviate
The challenges they face vary widely, from coordinating site access around our groundworks team and synchronising operations with the most favourable weather conditions, to managing a multinational supply chain in an ever-shifting and uncertain market.
That's on top of ensuring the safe and efficient execution of high-stakes engineering work at height, often in remote rural locations and using specialist lift equipment, such as large mobile cranes and heavy lift helicopters, to position new antenna with pinpoint accuracy. Once installed, Tom's team test the system scrupulously, ensuring it will deliver DTT broadcast exactly as it needs to before its commissioned.
A keen and constant eye on every aspect of project progress enables Tom to pre-empt and minimise issues before they occur, keep to the project roadmap and see each one through on time and on budget. After the airworks team's work is done, groundworks move in and retune the transmitters that feed the antenna to their new frequency before clearance of the 700MHz band takes place at the specified Clearance event.
Channelling extensive experience into 700MHz clearance
This exacting scrutiny is something Arqiva has honed through experience. As the sole transmission contractor for the UK's DTT services, we managed the national Digital Switch Over (DSO) from analogue in 2012. Involving 1,154 transmitter sites, it was the largest broadcast engineering project the nation had ever seen.
Orchestrating such a programme has given Arqiva a unique and invaluable perspective from which to take on 700MHz Clearance, as well as tried-and-tested implementation approaches we've proved succeed. For Tom, this means applying rigorous management techniques across multiple projects and teams, maintaining continuous communication and constantly measuring results against objectives.
Tom and the airworks team developed the heli lift method during DSO too, which they've refined to the expert and smooth-running approach we use today. As high pressure as they are high profile, heli lifts involve a day of intense activity after months of planning, during which Tom oversees the arrangement of flight permissions, public relations, contractor coordination and of course, weather conditions. Each project offers new opportunities for fine-tuning, which the team use to further improve our heli lift technique. To date, we've carried out over 20 successful heli lifts as part of 700MHz Clearance.
A dedication to complete project delivery
Alongside other expert divisions, the work Tom and the airworks team are doing has enabled us to deliver almost 90 per cent of the main station airworks, and nearly 80 per cent of relay airworks within the 700MHz Clearance programme to date. We are making great progress, and on track to have the spectrum made available for mobile by our 2020 completion target.
We'll continue to handle the programme with care and expertise , so that the UK will have the network infrastructure in place to benefit from the next generation of mobile connectivity.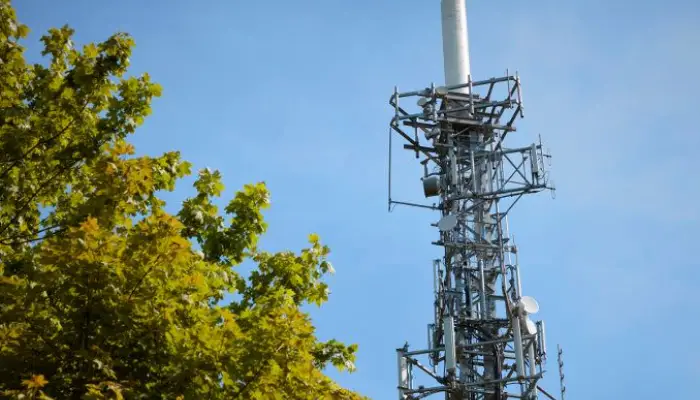 700MHz Clearance: Filling the gaps
What is 700MHz Clearance?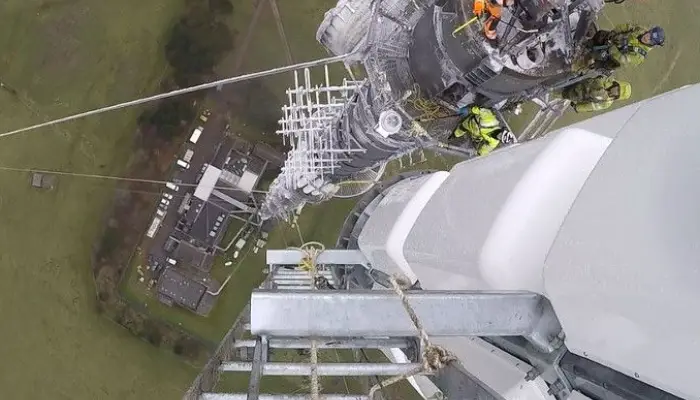 Finding an innovative solution to help clear the 700MHz band – The 'broadband' antenna