It's never been easier to enjoy quality TV. These days it takes little more than the touch of a button or two to access a world of amazing programming – 24 hours a day, 365 days a year.
The same applies to radio, where, with DAB quickly becoming the norm, listeners can access a growing range of high-quality channels broadcasting shows to suit all tastes – and again, it's all available with such little effort.
As a consumer it all seems so simple, but behind the scenes, companies across the broadcast supply chain are working cleverly and tirelessly to keep TV and radio services on air throughout the year. Arqiva is a prime example here; we have a massive amount of responsibility to our customers, and we don't take it lightly.
A complex network
Today's broadcast market is bigger than ever, and it shows in the huge range of services we provide for our customers. Across TV, we deliver the most watched national channels for public service broadcasters and international broadcasters alike on both Digital Terrestrial TV (DTT) and satellite. And in radio, we have local and national DAB, as well as FM, AM and Longwave. The choice is huge, and so too is the network and infrastructure that supports it.
Arqiva alone operates and maintains more than 1,800 broadcast structures and antenna systems. This gives our customers the power to reach expectant viewers and listeners in all corners of the UK with their content, and through whichever platform best meets their needs.
The importance of consistency
Any network that includes 57 vertical miles of structures will take a lot of work to operate and maintain, and with broadcasters relying on Arqiva to keep their channels on air, the pressure really is on; we must be consistent.
At no time is that pressure higher than during December. With the days getting shorter and colder (as proven by the recent ice and snow conditions to hit across the UK), and TV and radio schedules busying with all kinds of high-profile programming, we're working extra hard to ensure everyone sees and hears the content they expect. From the final stages of the X Factor, I'm A Celebrity and Strictly Come Dancing to the big soap storylines and, of course, the Queen's Speech – our customers can't afford any downtime, so neither can we.
So how do we make sure everything runs as it should at this all-important point in the year? Largely with the same skills and measures as during the rest of the calendar, but we do take a few extra precautions: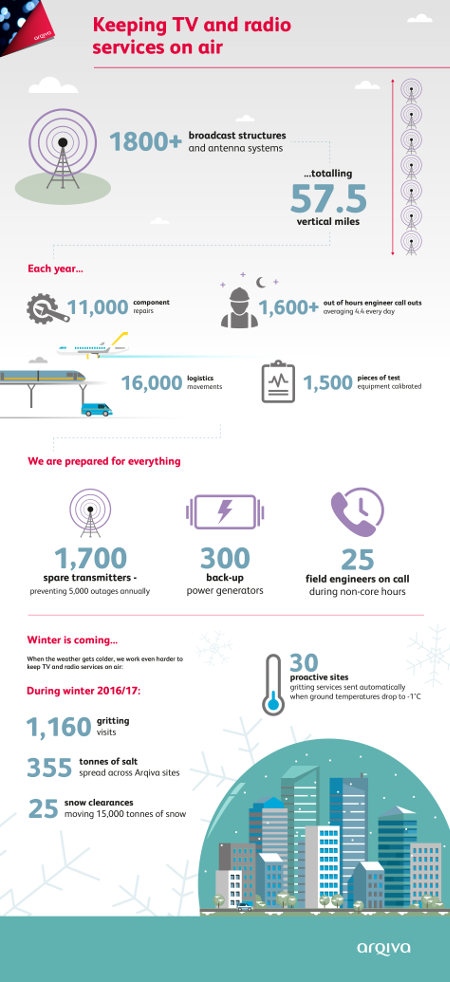 1. The Christmas lock-down
Our network is vast, and we're constantly working on it. We make more than 11,000 component repairs each year, for example, and regularly test and calibrate equipment for better performance. Doing this comes with its own outage risks, though, so as Christmas approaches we have a lock-down period where we stop all installation and project build work, as well as planned maintenance. By not touching the network, we reduce the chances of downtime while also freeing up resources to respond if anything does go wrong.
2. Working around the clock
TV and radio never stop, so neither do we. We have people working 24 hours a day, 7 days a week to monitor the network and respond to problems as necessary, even over Christmas itself - see a story showing the dedication from our engineers last Christmas below who went above and beyond in the adverse weather conditions in 2016. There are also suppliers on call should we need equipment for emergency repairs, as well as our broadcast and power specialists.
3. Staying safe in winter
The weather is probably the biggest challenge for us over the festive season. Lower temperatures, snow, ice and rain can all not only impact our equipment but also that of power companies and other telecoms providers which our network is dependent on. This undoubtedly makes work more difficult and dangerous for our engineers – especially in the country's more remote areas. We carry out winter preparedness and safety training with all those within the business who might need it. We also have a fleet of 150 four-wheel-drive vehicles, so we can respond to situations whatever the conditions, and even equip some cars with hand-pull sledges, so equipment can be transported on undriveable terrain.
4. Being proactive
It's important that we can respond to problems quickly, but we much prefer not having them in the first place. That's why we place such emphasis on being prepared. We have direct links with weather forecasting agencies, so we can see with as much accuracy as possible what challenges we're likely to face and prepare accordingly. Our gritting and snow-clearing services, for example, are activated around crucial sites when the ground temperature is forecasted to fall below -1°C. More than 1,100 gritting visits were carried out during the last winter period alone, with 355 tonnes of salt spread across Arqiva sites. We're big fans of having a plan B too; hence our collection of more than 300 fixed and portable generators, each one ready to kick into action in case of site power being lost.
A busy schedule for 2018
December throws up similar challenges every year, and having been at the heart of the broadcast world for so long, we're well-versed in tackling them. But Christmas isn't the only time we have to go above and beyond our every-day business responsibilities.
Major, high-pressure broadcast events pop up regularly, and there are plenty on the horizon. The FIFA World Cup in Russia, the Winter Olympics and the next royal wedding are all happening over the coming 12 months, and we'll be working closely with our broadcast partners and taking extra precautions – including some of those mentioned above – to ensure coverage goes out to the masses as intended.
We're committed to keeping TV and radio services on air at all times, and the way we work, with every possibility and obstacle considered in such incredible detail, means our customers can trust us to deliver their content when it matters most – whether that's over Christmas or at any other time of year.
Christmas 2016: A story of dedication
The events of Christmas 2016 sum up Arqiva's commitment to keeping TV and radio services on air perfectly. Here's what happened…
The build-up to Christmas was a tense time for us. We were warned, like the rest of the country, of the potential impact of storms Barbara and Conner – the BBC, ITV and the Met Office all gave 'Amber' warnings many days in advance. And, while Barbara passed without major incident on December 23, a freak lightning storm arrived the following morning, damaging microwave links that feed TV services for the west of Scotland. Our sites at Torosay and Glengorm on the Isle of Mull were completely wiped out.
With thousands of expectant viewers on course to spend Christmas day without TV services, we sprang into action, diverting one of our engineers from his existing job to Torosay. Normally, this would be straightforward, but the ferry from Oban to the Isle of Mull had been cancelled due to the wind, and the later crossing was full as a result.
Thinking quickly, our engineer found an alternative route leaving at 17:45 from Lochaline – a three-hour drive away. The time was already 13:30, and he needed parts being carried by another of our team members who had been working on the opposite coast of Scotland. Everything came together and the two parties somehow met in time to catch the last boat to the Isle of Mull. There were no return ferries until Boxing Day, so by making the decision to board, they selflessly sacrificed their own Christmases with their families to ensure thousands of others could enjoy their festive TV.
The pair managed to repair the main link by 19:30 on Christmas Eve, and then continued working on the severely damaged infrastructure over Christmas Day and Boxing Day to get everything back to normal. A happy ending for our dedicated engineers and approximately 17,000 unknowing TV viewers.
What is 700MHz Clearance?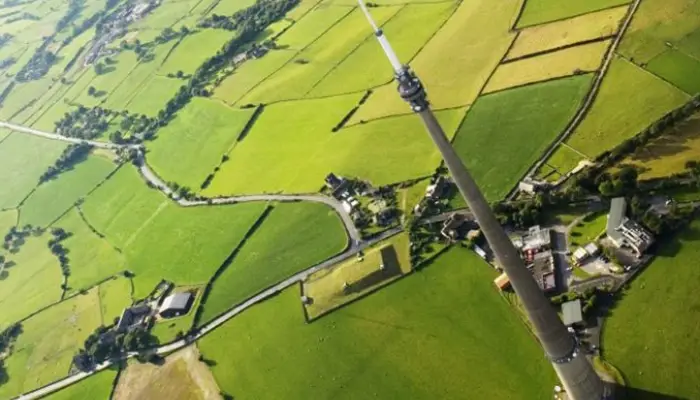 Inspiring engineers: How Arqiva invests in talent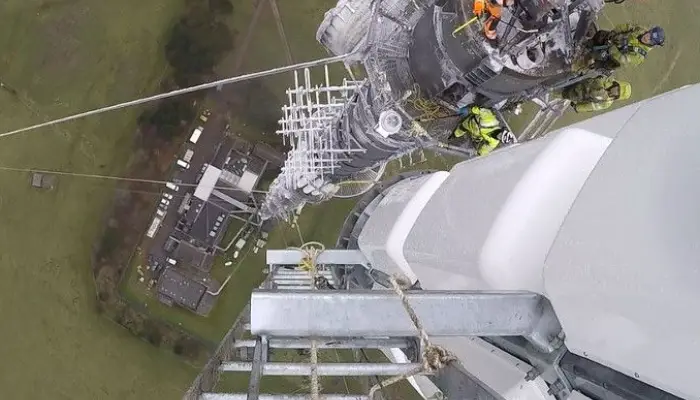 Finding an innovative solution to help clear the 700MHz band – The 'broadband' antenna